"I was upset at the available options, being an engineer myself I decided to stop looking, and start creating!"
The Best in the Game
Only for the most meticulous of listeners. Those who want the absolute best!
Technics 1520
A complete rebuild inside & out. Pictured here with a pair of RX Reels' Black & Gold Vein Carbon Fiber Reels. Why RX Reels? Equally as precise as this rebuild! Only the best for the best!
Technics 1520
A complete rebuild inside & out. Pictured here with a pair of RX Reels' Black & Gold Vein Carbon Fiber Reels. Why RX Reels? Equally as precise as this rebuild! Only the best for the best!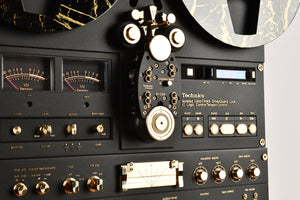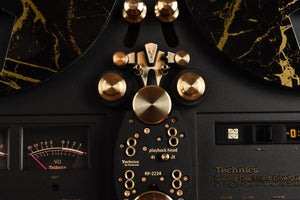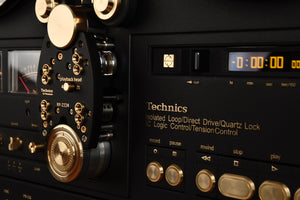 About Us
Is the highest possible quality of utmost importance to you? Are you looking for complete rebuilds? Are you looking for perfection? Then give Alter Ego Appearance a call. Three years ago Alexsander Dorin created Alter Ego Appearance. Alex did so in response to the rapidly decreasing availability of Technicians who perform this level of rebuild.
Alter Ego Appearance combines art with technical skill. Custom would be an understatement as each machine is it's own new creation.  No two machines will ever be identical. Every single part of the tape decks are rebuilt; brand new front panels (from scratch), switches, head blocks, caps, motors, EVERYTHING is rebuilt! It is basically a brand new machine.
Alter Ego Appearance is located in Brooklyn, NY and their machines can be experienced at the Reel to Reel Haven showroom in Bushwick, Brooklyn, NY. For any inquiries into our restorations or scheduling a visit to test one out, please contact Ryan at Reel to Reel Haven.
Schedule a test drive or Request Information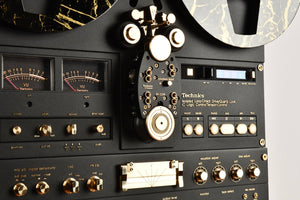 Available Decks

Technics 1520

Completely rebuilt

- Heads had very low usage, incredible find!
- Boards checked, re-soldered
- Brand new front panel, switches, knobs, controls
- Completely recapped
- Heads Relapped
- Custom made hubs and reels
- 18k gold lettering, knobs, switches
- Gorgeous african rosewood side panels
- Brand new laser printed VU Meter's with HOT PINK needles
- *Flat/perfect frequency response. No losses
Available for test drive in the Reel to Reel Haven Showroom. Schedule your test drive by clicking below.

See photos ins slide show below.
$50,000.00
Learn what's on our bench - 1520!
Technics 1520
Custom Creation by Alexander Dorin - Alter Ego Appearance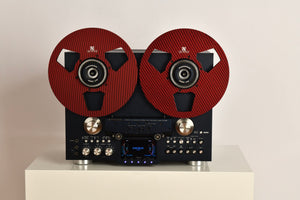 ALTER EGO - Pioneer 909 - MAJOR MOD/UPGRADE
- C++ Programming to include 15 ips
(This deck NEVER played 15 ips, only up to ips7, this is a MAJOR MOD)
- Custom LCD VU Meter with three different vu meter modes
- Custom built, brand new front plate
- Brand new metal lettering, jewelry quality silver
- Only one made
Available for test drive in the Reel to Reel Haven Showroom. Schedule your test drive by clicking below.
See photos ins slide show below.
$10,000.00
Inquire Today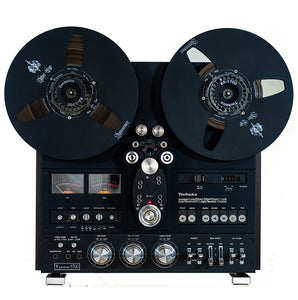 ALTER EGO - Technics RS 1700
Complete rebuild from head to toe

- Brand new front, top and side panels
- Brand new switches
- Fully recapped
- Electronic boards refreshed and re-soldered
- Custom side panels with engraved screws
- Custom hubs
- Custom reels
- Brand new laser printed VU meters
- Heads relapped
Available for test drive in the Reel to Reel Haven Showroom. Schedule your test drive by clicking below.
$35,000.00 - SOLD!
Learn what's on our bench - 1520!
Testimonials
Alter Ego Appearance pursues perfecxtion... see what people are saying...
Best piece of analog equipment i ever bought!

If you do not at least contact Ryan at Reel to Reel Haven then you are selling your self short of the best analog/reel to reel experience possible. I have been a long time customer of his first company, Reel to Reel Heaven; a partnership with his amazing and talented father-in-law, Ozzy. I purchased a restored to near to mint condition Otari MX5050BII2 years ago and it is still one of my top pieces! I have watched Ryan and Ozzy grow and LOVE the evolution to Reel to Reel Haven! 

 

This time, I wanted an RS-1700. Unfortunately they didn't have any in stock, but Ryan told me about the new company he is representing, Alter Ego Appearance. People, the only other contender is the J-Corder. I am in absolute shock, love, happiness! The BRAND NEW front plate, metal lettering, switches, head cover, hubs, back and top panel etc are stunning to say the least. This is a show stopper – inside and out! 

 

I'm amazed not just by the absurd quality of the machine, but more significantly the astounding attention to detail the team put into every aspect of the project. In fact, I can say with conviction that this deck is the best analog source I've ever owned. The action is smooth, playback pristine, the sound spectacular. Plus, it arrived at my door cosmetically perfect, packed and shipped with such care and protection that a personal armored car delivery would not have protected it better.  

 

I put Ryan and Alter Ego through multiple changes, asking dozens of questions and seeking advice on every detail from what color meter lights, what type of print on the faceplate, the colors/types of knobs and switches, the choice of wood side panels, what to do about the deteriorating back cover and more. Not only did they put up with it all, they were genuinely happy to answer and oblige. 

  

Thank you Reel to Reel Haven AND Alter Ego Appearance for the best deck I've owned to date.  I'll be back for more soon enough!   

— 

Wayne Wienstock, FL
The one piece my wife said to keep - in over 25 years

My Journey Back to Reel to Reel and
the World of Analog Music Reproduction

 

By Michael J. Pacholick - Founder of
Handmade Audio, Flemington, NJ.

www.handmade-audio.com

 

Techniques 1506 Reel to Reel Tape Deck

 

My fascination with reel-to-reel decks dates back to my teen years before Luke knew Darth was his daddy.  In the 1980's I moved away from analog tape and started buying CDs, then got into streaming and hi-res audio later in life.  When I saw tape machines come back into the demonstration rooms at various audio shows, my curiosity peaked about this format.  Why was it even still alive?  I did extensive research and concluded that tape is just a ridiculously impractical format.  The machines are all 40-plus years old, and I tapes are just stupid expensive. But then again a bottle of Leroy Domaine d'Auvenay Chevalier-Montrachet is $35,000. Nobody seems to mind buying overpriced fermented grape juice, so why should it matter that a rare vintage tape machine can't be enjoyed in the same way as a rare vintage wine or
a rare vintage automobile?  The value of something is not what it costs but what a person feels it is worth. 

 

I also would shy away because the techno nerds of this hobby would say things like, "tape does not have the dynamic range of digital" or "tape only has a frequency response of 30hz to 30khz."  I believed that for a long time and took the face value of analog as inferior because of what it looked like on paper.

 

Of all the different types of stereo gear that were popular in my day, reel-to-reel machines are the most iconic.  Even today, the conversation piece is the reel-to-reel tape machine when people visit my store or my booth at an audio show.  Everyone of a certain age seems to have a memory of how the magnetic tape was in their lives, and they love to relive their memories.

 

With a strong desire to get into tape
again, I embarked on a journey to see how I could even begin to approach obtaining a machine.  I found three options.  1) Buy a hunk of junk on eBay and hope for the best.  2) Raid the kid's college funds to afford a deck from United Home Audio (a custom tape deck built for Hedge Fund managers or a Saudi Prince).  3) Find a competent technician to rebuild one.  However, what do I do next once I have a machine?  I searched for years, actually, and always became gun-shy when it came to purchasing.  I convinced myself it was not worth the risk or the expense to buy a tape machine, and I'm not the collector type.  I could not find someone to get me back into tape the way I needed.  I needed to find a company that not only knew how to get the best sound from a tape machine but also needed to find a company that could lead me into the world of analog music reproduction.  I was looking for an 'analog' guru, if you will.  Someone who had the patients, knowledge, and understanding to educate me on tape machines, care and maintenance, performance, and someone who had enough experience to point me in the right direction when it came to purchasing a tape machine.  I was looking for Yoda, the R2R Master.

 

Then I found Reel to Reel Haven. The
company's founder, Ryan O'Connor, consulted with me for hours and was never afraid to take a phone call.  I learned a tremendous amount about tape machines, tape stock, recordings, artists who will only use tape to record their masters, and how to match a suitable device for my budget and performance objectives. 


Not all tape machines are equal; just because a machine plays tape does not mean it will sound good.  Thank goodness I didn't have to learn that the hard way.

 

After Ryan learned all of my
requirements he did not hesitate to recommend a company/technician. Ryan referred to him as a creator, and he wasn't wrong. We settled on a restored, modified Techniques 1506; restored (rebuilt really) by one of the companies Ryan represents… Alter Ego Appearance. I have found my R2R Master! Of all the reel-to-reel machines I have listened to over the past several years, my favorite was always this elegant beast. 
The drilled head cover, machined metal knobs, and industrial grayish-black finish screams eye candy and has a luxurious look.  It moves with grace and power and delivers music to your ears in a way I've never experienced.  Its massive direct drive motor is dead quiet
and flows so effortlessly that you can't take your eyes off the machine when it's playing.  It's an accurate analog device.  No flashy LEDs, no blinking lights, and nothing that draws your brain's attention away from the music.  It's confident in its place in your room as it were to state, 'it's my turn to demonstrate a musical performance, so sit
down and pay attention.' 

 

It took me over a year to obtain the
machine I wanted.  When I picked it up from Reel to Reel Haven's Brooklyn showroom, I was gobsmacked at what my eyes
were looking at.  It was absolute perfection.  The machine was rebuilt and looked like it should be in the Smithsonian.  Not a single blemish on the device.  Nobs and buttons chromed out like a hot-rodded Harley and custom take-up reels that scream, 'badass!'  I could not believe how beautiful this machine was and that I was about to take it home.

The sticker lettering on the front plate were replaced with metallic, 3D brass lettering, which added an even more luxurious touch.  The side panels were replaced with gorgeous African Rosewood, and every screw was replaced with chromed-out commercial-grade screws and bolts with the custom logo on them.  The original front plate was replaced by a beautifully made, CNC'd piece made from aircraft-quality aluminum and powder-coated in a glorious dark green color with a hint of blue.  The entire machine was repainted with an auto-quality paint job as well.  The
interior of the device was rebuilt entirely, capacitors replaced with high-quality audiophile CAPS, soldered connections redone, new wires, tape heads, rollers, etc., etc.  This machine was built from the ground up, and they spared no expense in making the sound better than the original manufacturer. This was what this machine was meant to be!

 

The Technics 1506 can accommodate reel
diameters up to 10 ½" and play/record at three ¾, 7 ½, and 15 inches per second. This is important as most audiophile quality tapes on the market are now sold at 15 ips.  My version is a 4-track with 2-track capability making it a very versatile machine. It has three separate motors and soft-touch full-logic controls, making it one of the
smoothest transport systems of any reel-to-reel machine I've ever experienced. 

 

When my machine came home, I eagerly put on my Master Tape of Nora Jones, Come Away With Me.  I sat back and listened to Nora, who was in the room with me.  It felt like she was in the room rubbing my shoulders.  My wife had something to say about that.  The nuances of her breadth and depth of vocals were astonishingly textured and clean.  Each instrument had its own space, and the air around them was apparent.  The guitar's tonality was incredibly pure, and the rhythms were spot-on and perfect. 
The tape demonstrated a 'layered' effect in reproducing the sound.  Much like a good tube amp would do.  My wife and I sat down and listened to this album 2x in a row without saying a word. How many times have you done that?  My wife, who thinks my hobby is just stupid and can't understand why anyone would spend $10,000 on anything audio, said, "don't ever sell this machine"; it is the only piece of equipment I have every bought that she wants to keep!

 

Is digital better?  What about vinyl?

 

Audiophiles love to engage in a
constant debate about formats.  It's' like watching a group of Hasidic rabbis discussing religion (which can be interesting if you have never experienced it).  Everyone has their opinion, but nobody who has listened to my tape machine has ever said, 'this does not sound so good.'  They all react the same way I did, so that ends any discussion about how tape sounds compared to any other format out there.  Tape, when done correctly, engages the listener and brings you closer to the music, unlike any other form in existence.   There is something 'magical' about it; you can't put that on paper. 


The Technics 1506 is staying where it is, and I have no interest in ever getting rid of it. I'm also looking forward to the journey of discovering new artists, recordings, and further tape ventures. 


 

Tape Resurgence

 

The tape resurgence is here, and it's
growing like crazy.  Demand for tape
machines is rising, which means supply is getting reduced.  If you are considering buying a tape machine, don't buy one unless you contact Ryan at R2R Haven.  Visit his Brooklyn studio and have a drink while auditioning on many tape machines from Technics, Studer, Pioneer, Revox, etc.  The service this company provides is superb.  All refurbished devices are done here in the US and come with a warranty. 


Since I purchased my machine, I needed a couple of tweaks.  A technician arrived at my house and fixed it on the spot with no charge or questions asked.  Perfection is the goal with R2R Haven.  Who does that any more?

 

The tape resurgence is an exciting
study.  Unlike the vinyl resurgence,
which is driven by consumer demands, the "tape" is being demanded by recording
artists.  For example, artists like Adele and Lady Gaga require their recordings to be made on analog tape again.  This has caused studios to rush to find solutions to obtain analog tape machines. The "culture" that Ryan is building and the trusted marketplace he has created and will continue to evolve is exactly what this industry needs. In time we will see more content on analog
tape.  I for one will be there to collect. 

— 

Michael J. Pacholick - Founder of Handmade Audio
Shipping & Returns
Shipping
Shipping protection is not offered. Our decks will not ship commercial; only freight. Our policy is to use the standard materials; rigid board (2 layers), expandable/chemical foam packs, bubble wrap etc, BUT, we reinforce with actual wood and screw the box to the pallet.

RETURNS
No returns offered on restored tape decks.

WARRANTY
We offer a one year warranty on our restoration work. Should something break down within the first year not related to shipping damage or accidental user error causing damage, Alter Ego Apperance, will repair at no charge. Customer pays shipping or cost of technicians travel.