I think music is an instrument. It can create the initial thought patterns that can change the thinking of the people.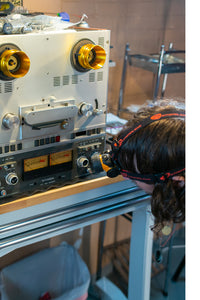 About us

Reel to Reel Haven's Repair shops are located in Brooklyn, NY, Chicago, IL and growing!
Our Technicians are not your "enthusiast" technicians. No matter the problem the fix is just a phone call away.
From recapping and component level repair to complete rebuilds we can handle any goal AND we guarantee our work!
*Need us in the field, no problem - hit the button below to connect with us!
GEt a tech Stat!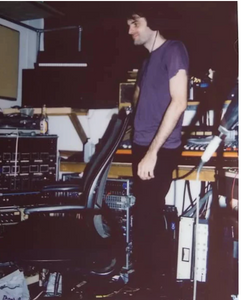 Meet the techs

PAUL D. MILLAR / NYC
Paul D. Millar is our East Coast Service lead. Having worked on over a thousand decks Pauls expertise is clear. His motto, which every tech should adopt, is, "I don't want to ever see this deck again, if I do I have failed".
Paul has repaired decks for a wide range of customers. Musicians and home recording professionals, recording studios, audiophiles to major universities and their special collections libraries, like Auburn Univ. for example. Paul also plays in an amazing band, Slugbug - check them out!
"It's funny how it all started... Paul blasted us in a Facebook group over heads needing to be relapped - he didn't know the customer had the deck for over a year... in very cavalier fashion he "reprimanded" us lol...
I was interested at this point to learn more about him. I am so glad I did, not only because of his skill level, but because he is honest and a good human being... traits hard to find these days"

- Founder , Ryan O'Connor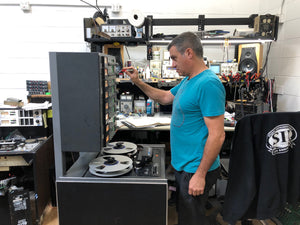 JON TACONNA / CHICAGO, IL
Jon is the founder of Outlier Audio in Chicago and is our Mid-Country Service Lead. Jon graduated in 1998 from from Full Sail University with a specialized associates degree in Sound Engineering, Studio and Live sound engineering. From there he went onto Deltronics Sound Inc. where he had a 20 year stay working his way up to Head Technician.
A true tech through and through. Jon grew up with an interest in music that inspired him to create the emotions that good music/sound brings. From live sound to recording and production he eventually found his place in the audio repair business.
Jon has worked on over 800 tape decks from pro-sumer to studio grade tape recorders. "John has spent the past 25 years working on audio gear of pretty much every variety & we're so very glad to have him and his expertise on our team."

- Founder, Ryan O'Connor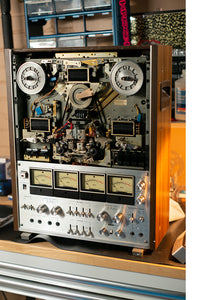 Our procedure: Reel to Reel Haven repair shop charges a standard $250.00 "bench" fee for the analysis of your tape deck. The bench fee enables us to provide the customer with a written cost analysis of what we believe needs to be done to bring your deck back to life! Should you move forward with the repair of course the bench fee is not lost. If you decide to decline, the tech keeps the bench fee.

Hourly rate
Paul: $125/hr
John: $125/hr

Brands Serviced
Studer / Ampex / MCI
Otari / Pioneer / Technics
Other Professional Grade brands
We do NOT service Teac/Akai and many other consumer grade tape decks at RRH
Speak to an owner or a tech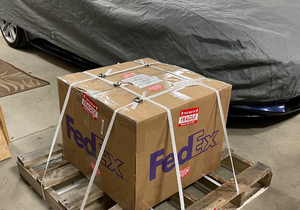 Shipping & Returns
Shipping
Sadly, we do not offer shipping protection. Despite hiring expensive packing engineers and the like the shipping companies arbitrarily decide when something is their fault. We do provide videos and photos of the deck working and from all angles. We can do a recorded Facetime call to show the shipping companies you confirmed the machine was in perfect working order prior to thier handling. We even take a plethora of photos of the packing job to show every single step taken as well as photos of the box at the counter aloowing you to prove no damage was done prior to shipping. Should you have any issues with your shipment — we have your back as you work with your carrier.



Returns
We offer a 30 day return capability for any hubs, reels or other accessories sold. No returns offered on tape decks.


Warranty
We offer a 90 day warranty on our repair work. Should something break down within the 90 days not related to shipping damage or accidental user error causing damage, Reel to Reel Haven, will repair at no charge. Customer pays shipping.